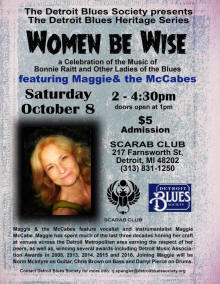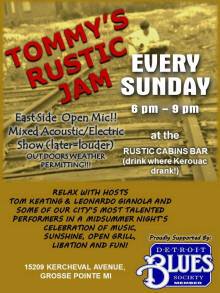 Do you have a subscription
to "Blues Notes"? JOIN NOW!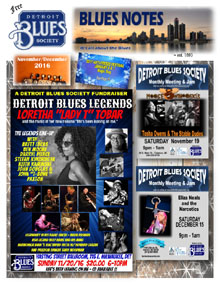 Support our friends (click here)
We have a lucky Winner going to
Marquette for Blues Fest!
---
<< Great Things Happening!
---
DBS Memphis Blues Challenge
Come and watch your favorite bands compete for a chance to represent Detroit in Memphis at the International Blues Challenge.
Sun., October 2 - Moose Winooski's (Clawson)
Sun., October 9 - Beale Street Smokehouse (Fenton)
Sun., October 16 - Slo'Bones (Frankenmuth)
Blues Background
Blues is about tradition and personal expression. At its core, the blues has remained the same since its inception. Most blues feature simple, usually three-chord, progressions, and have simple structures that are open to endless improvisations, both lyrical and musical. The blues grew out of African spirituals and work songs. In the late 1800s, southern African-Americans passed the songs down orally, and they collided with American folk and country from the Appalachians. New hybrids appeared by each region, but all of the recorded blues from the early 1900s are distinguished by simple, rural acoustic guitars and pianos. After World War II, the blues began to fragment, with some musicians holding on to acoustic traditions and others taking it to jazzier territory. However, most bluesmen followed Muddy Waters' lead and played the blues on electric instruments. From that point on, the blues continued to develop in new directions -- particularly on electric instruments -- or it has been preserved as an acoustic tradition.

No single person invented the blues, but many people claimed to have discovered the genre. For instance, minstrel show bandleader W.C. Handy insisted that the blues were revealed to him in 1903 by an itinerant street guitarist at a train station in Tutwiler, Mississippi.

Without getting too technical, most blues music is comprised of 12 bars (or measures). A specific series of notes is also utilized in the blues. The individual parts of this scale are known as the blue notes.

Well-known blues pioneers from the 1920s such as Son House, Blind Lemon Jefferson, Leadbelly, Charlie Patton and Robert Johnson usually performed solo with just a guitar. Occasionally they teamed up with one or more fellow bluesmen to perform in the plantation camps, rural juke joints, and rambling shacks of the Deep South. Blues bands may have evolved from early jazz bands, gospel choirs and jug bands. Jug band music was popular in the South until the 1930s. Early jug bands variously featured jugs, guitars, mandolins, banjos, kazoos, stringed basses, harmonicas, fiddles, washboards and other everyday appliances converted into crude instruments.

When the country blues moved to the cities and other locales, it took on various regional characteristics. Hence the St. Louis blues, the Memphis blues, the Louisiana blues, etc. Chicago bluesmen such as John Lee Hooker and Muddy Waters were the first to electrify the blues and add drums and piano in the late 1940s.
Detroit Blues
Detroit blues is blues music played by musicians resident in Detroit, Michigan, particularly that played in the 1940s and 50s. Detroit blues originated when Delta blues performers migrated north from the
Mississippi Delta and Memphis, Tennessee to work in Detroit's industrial plants in the 1920s and 30s. Typical Detroit blues was very similar to Chicago blues in style. The sound was distinguished from Delta blues by its use of electric amplified instruments and a more eclectic assortment of instruments, including the bass guitar and piano. The biggest Detroit blues performer to achieve international fame was John Lee Hooker, as record companies and promoters have tended to ignore the Detroit scene in favor of the larger, more influential Chicago blues. The Detroit scene was centered on Black Bottom/Hastings Street, a Detroit neighborhood.
Come visit often for more Blues News!
Article from All Music Guide
www.allmusic.com
and reprinted with full credit to their efforts.
"...thanks for all you do for
keeping the Blues growing."
Bill Wax, Proprietor of Low-Fi's Bar and Pool Hall
on XM Radio Channel 74

The Detroit Blues Society (DBS) is a registered federal 501(c)(3) non-profit organization dedicated to the preservation, education, and advancement of the blues tradition, as it relates to the Metro-Detroit area. It has as its primary goals, to promote a wider appreciation for the Blues by the general public and to serve the members of the Society.